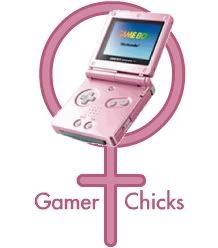 My Personal Mission Statement

Greetings, my name is Celes, and I officialy founded Gamer Chicks on August 1st 2004, though it was originaly a guild thread I created in the Guild Forum at the beggining of my time here on Gaia.

I made this guild with the idea in mind to create a network of like minded people. A support group for girls, any girls, who like games. Hardcore gamers, casual gamers, young gamers, old gamers, even male gamers who werent opposed to the fact that yes: you can and will lose many times to a girl.

The gaming world and industry is a very gender biased place. It is my goal to accept and encourage all female gamers. This is a safe haven to talk about anything without the fear of a retort such as "you can't play games, you're a girl."

We have a lot of fan girls. What better gift to give to the developers of games then our fandom?

We have a lot of hardcore girls. They've got their opinions, and the skills to back them up.

It is my hope that together we can bridge the gender gap and stop the animosity in the gaming world, and industry. Girls play games. Girls are good at games. And girls can make games. Just as good- if not better.



Ok everybody, this one goes out to all of those ladies who play games. Thats right. Heres a place you can come and talk to other females about your favorites! Stand tall. We are the elite! Don't let boys drag you down just because of your sex. Let them know we arent all priss and whine, and that we could beat them down any day on Smash Brothers Melee. Oh yeah.
In this guild we discuss anything and everything we love and hate about our games and the life we lead with them. Meet some fellow gamer chicks, and make some new friends.
Are you a male who thinks this is totaly Awesome? Are you one of those who doesnt care about the sex of your opponent? GREAT! Become one of our supporters, and help stop the animosity in the gaming world.


~*Other Great Gaming / Community Guilds*~
Grand Master Gamers
You got game?
Gerudo Fortress Guild
The Dance Dance Revolution Guild
Final Fantasy addicts Anonymous Guild
Find a list of all the gaming guilds on Gaia
Here