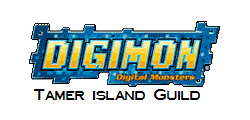 Current Guild Events:
-->>Click here to Register!!<<--

What is Digimon: Tamer Island?
Tamer Island is a guild where you get to play the role of a tamer, having your very own Digimon. Earn enough Tamer Points and your Digimon can Digivolve to stronger forms through which you can battle your opponents with it through our unique card battle system you might want to try out. We also hold Digimon Tournaments once in a while so prepare your Digimon.

Tamer Island offers also a variety of fun Digimon based contests to keep you entertained with gold prizes, extra Digimon, Digivolution Item prizes and a lot more. Finally, Tamer Island is not complete without its main Roleplay Forum. So what are you waiting for? Join now! (Check the rules on how to join below)



~*~*~*~*~*~*~*~*

Rules:
1. Respect every member of this guild.
2. You must have only 1 account in this guild, no mules!
3. No plagiarizing/copying/improvising of any feature from this guild.
4. Have fun!

Include "Tamer Island" in your join request for us to see that you really have read the rules.
You may not be accepted to join if you do not include it.

*Please take note that there is a 1,000 Gold registration fee inside in order to become a fully registered Tamer, do not join if you don't want to pay the fee, as it is for the Contest funds to be held.
*You must have been on Gaia for more than a month in order to be accepted.

How To Join:
1. Click the request to join button on the upper right hand corner of the guild.

2. Place in the request on How did you find out about Tamer Island also convince us to let you in. A proper paragraph/sentence is different from requests like "Please let me join, I love Digimon" or "You really should let me join because I'm an active RPer"

3. Wait for a Moderator to accept your request, and you have started your journey to become a Digimon Tamer!

4. Read this forum to get started! ----& Here &-----

AFFILIATES
(Please contact Lief_7 or Grandwing if you want your guild to affiliate.)


LOGOS (Link to us!)













©Digimon and all related games, characters, and images are property of Akiyoshi Hongo, Bandai, and Toei Animation. This guild is not endorsed by any official entity. The images are for entertainment purposes only.



To donate to Digimon: Tamer Island, please do not submit Gold in the form below, as we can only use it for Guild Announcements and the creation of Subforums. For your Gold to go back to the Tamers of Digimon: Tamer Island, in the form of prizes, please send your donation to RK Ulforce Veedramon.