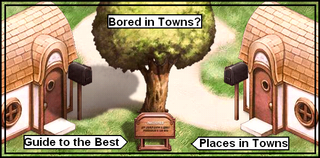 Have you ever felt lonely while wandering around Towns, trying to find people to hang out with or a fun place to entertain yourself and others? Well then this is the guide for you! A few of us have got together to make Ninina's original thread guide into a full blown-out guild so not only is it easier to navigate, but you the users can be a part of the guide as well.
.: _______________ :.
This guild brought together by the Crew, the Homeowners, and the Visitors can be used to gather addresses of nice places that are worth the trip, and can be kept up-to-date with the patience and dedication of everyone.