About
I'm alive with 10 fingers and 10 toes. I like to sleep and wake up to a nice bright warm morning...Maybe I'll even wake up to an afternoon.
If you all dearly have to know...
Height : 6' 6"
Age : 19
Avi Art
More would be nice,
If you want something to draw.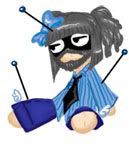 [img]http://i17.tinypic.com/43esxls.jpg][X][/url][url=http://i4.photobucket.com/albums/y114/I_love_sandwiches/31315co.jpg[/img]

Friends
Viewing 12 of 24 friends