☆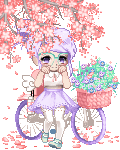 ☆
Ohaaoooo! <3 (─‿‿─)

I'm like a little cactus plant. Not because I love them and think they're ohhh so cute, but because they are covered in many spikes ready to give you a poke

!

Some people who approach, get struck with them. Beyond my spikes there is only rough skin to be found, another barrier you can't breach. Unless you're a friend. My friends are like the few species of birds that can peck through and get to the heart. They are the only ones that know that as rough and mean the outside is, on the inside it's actually soft and kind. I offer them a peace of me, a home, care, food and water. Even if they leave a scar in the rough skin, a permanent wound, a empty gash, they will always have that home to come back to.
It's hard being a cactus.




Zj is my name. n-n ZOMBIES CAN BE CUTE TOO, kai?
I'm a girl even though my avi never is anymore.
I am also lesbian.


&

single. </3
Come catch my heart like it's a firefly ~
I'm a horse rider. Been riding for over a year now. I love it so much. I learn quick too.
Hehe, I'm a writer as well! This means I also enjoy role playing. x3

There's so, so many things I love. If you would like to get to know me,
please send a private message. c: No random friend requests!