Zlhna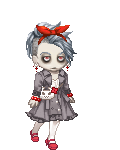 Registered: 01/19/2004
Gender: Female
Birthday: 05/27/1990
Signature
Tarot Reading Curious, No?



Thank you, An anonymous benefactor.

Forums
Posts per Day: 8.42
Total Posts: 39993
About


Humblevoice || The Grombie Charity || The Inked Quill || Comment ||



My avatar on the other hand is 8 years old. I have a wonderful boyfriend who I've been dating for

1

Year. Which means I'm happily taken. We are expecting our first child on 12/29/12



I love to bake! Cupcakes are usually my thing. Though I am branching out and going to start trying to make cake pops. Though it would be wonderful to work in a "REAL" bakery where I could learn and do so much more!

Since I've started with Gaia. I have been on and off the site. Though I do own a charity thread called, "The Grombie Charity." After the fact that my avatar is a Grombie. It's been a little hard on me lately with personal issues to get to it. But I do what I can. You should visit it sometime, there are lovely people that lurk.

My charity is the only project that I haven't really left unfinished. I'm really bad at starting projects and leaving them half done. It's my baby and if you want to get to know me more, that's where I will be. Oh, and I also write poetry! It's one of my favorite hobbies. You can find my work here on Gaia in Areas.

I also have a writing shop on Gaia called, "The Inked Quill" There you will find samples of my poetry and short stories. Feel free to stop by! The poetry I write is free and the short stories I take bribes for.

You will find the links to both The Grombie Charity and The Inked Quill at the top of this post. Please stop by and leave a comment at both!