zJae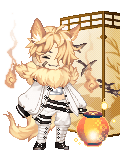 Details
Last Login

10/09/2015 8:04 am

Member Since

01/16/2010
Gender

Female

Birthday

07/11
---
Interests
Favorite Movies/Anime
Favorite TV Shows
Favorite Reads
Favorite Music/Bands
Hobbies/Interests
About
I will follow in the foot steps of the chosen one.
As the howls of life poor from his mouth.
The growls of revenge sound shallow in his throat.
He has chosen me to walk beside him.
I will walk beside him, the chosen, my soulmate.
Though the century as I am reborn to stand by his side from life too life
till the end of time.
Too accompany him though the ages is my destiny.
I do not fight my destiny I embrace it.
----------
Find me on my other account
here
.
----------
Things that I like...
Music (rock, j-rock, other stuff)
Visual-kei
Video games
Manga
Anime
(Forever questing for avi art.)
View journal for the art.
--------------


---------------
History:
Name changed from Kazeryuu Kami to zJae.

Friends
Viewing 12 of 163 friends
Multimedia
Signature
Art by Hakui-Kitsune/ Pixel Art by Pastellite