Zain The Inferno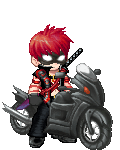 Last Login: 06/26/2014 9:04 pm
Registered: 04/09/2008
Gender: Male
Location: The Aniverse
Occupation: Student working towards a Bachelor's Degree in Game and Simulation Programming
Equipped List
No items equipped.
Interest Tags
Favorite Movies/Anime
Favorite TV Shows
Favorite Reads
Favorite Music/Bands
Hobbies/Interests
Wish List
About
Inferno of the West.
Journal
The Official Chronicles of Zain Bloodbane (And Other Stuff)
Mainly this journal will be about me, myself, and my website. Anime Collision Comix. If you want to go to the website just click my siggy.
Signature
List of self-proclaimed titles:
Inferno of the West
Blazing Angel
The Phoenix
Diamond Knight