yunonoticemisenpai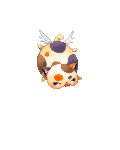 Equipped List
No items equipped.
Interest Tags
Favorite Movies/Anime
Favorite TV Shows
Favorite Reads
Favorite Music/Bands
Hobbies/Interests
Wish List
About
If you DELETE people, DO NOT add me.

I understand you have reasons, but I can

enjoy your company without being

abandoned.

System of a Down, Doctor Who, and

Zomg is my obsession..

Keep in mind I've been told this:

I'm an introvert, assertive, opinionated,

open minded, scatter brain, honest

person, awkward, not afraid to admit I

can be hypocrite, control freak, little ocd,

has a temper, lazy, can be intimidating,

funny, kind, over analyze things, doesn't

want to trouble anyone, sensitive, can be

clingy, worst person to piss off, and stubborn.

I can't stand the supernatural, people

who lead other on, fakes, other strong

opinionated people who can't accept

being wrong sometimes, or liars.

I don't have a reason to hate someone

unless they give me a reason to.




Journal
emeeee's random s**t
Whatever I ******** want to post.