Yui Bluefox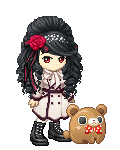 Last Login: 05/01/2013 5:02 pm
Registered: 09/25/2006
Gender: Female
Birthday: 11/02
Interest Tags
Favorite Movies/Anime
Favorite TV Shows
Favorite Reads
Favorite Music/Bands
Hobbies/Interests
Wish List
About
Hi, I'm an art student and just finishing my foundation/A-level. Going to continue my degree soon. Time flies so fast. >_<

I love to sing and dance. I'm a beginner in playing guitar and the most memorable thing that has happen to me for this one year was I get to do a lot of public shows as I was involve in a musical theatre in my country. Plus, I get to study what I really want in university and I'm really thankful to God.

I met a lot of people, making friends with them and it was a challenging life. Right now, I'm really looking forwards to the future.



Journal
Sasena's log
I like anime!
Signature