YugureMuffin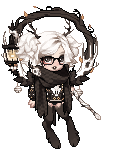 Details
Last Login

12/16/2017 1:40 pm

Member Since

07/16/2011
Gender

Animal
---
Interests
Favorite TV Shows
Favorite Reads
Favorite Music/Bands
About
So now I am suppose to say something about myself, huh. Well If you wanna know details just ask. Make your own conclusions. But what can I tell? Hmmm...
My name is
Naomi
. Hi!
biggrin
I am
22 years old
!
I like
drawing
,
writing
,
reading manga/comics
and I also like
rp'ing
. The rp-groups I am in are all on dA, but I also like to whip up random characters for individuals with who I rp.
I am fluent in
Dutch
(motherlanguage) and
English
(learned from tv at age of kindergarten and then learned how to write it at secondary school). I can understand
French
and
German
when reading it, but I can't use it (due to grammar).
I am chronically ill and diagnosed with
Pseudo Epileptic Seizures
(because they didn't want to call it Fibromyalgia because then I wouldn't be helped by schools, work and the governement because they have no money anymore to finance people with such diseases and because the governement doesn't help, the others don't either. So when you're sick with something similar you're kind of stuck in your life.). Though there is actually further research/treatment needed, my parents can 't pay that and this diagnose is fine until people are going to nag about how long ago it was stated, which probably will happen, because Belgium (don't know about other countries, but Belgium can be an a** when it comes to chronically ill people).
Uhm, I'll have to think of something else to tell now ...
Oh hey look websites!
Sites:
My deviantART
(Drawing/writing/RP)
Paigeeworld
(Drawing: sketches and drawings)
Asianfanfics
(Writing: fanfics)(inactive)
Fanficoverflow
(Writing: originals)(inactive)
Friends
Viewing 8 of 8 friends