About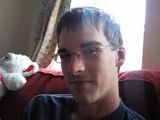 It has been a long time from the last time I updated this, so I think its about time to change that. I'm 27, living in California now, on the Central Coast; and now part of the Air Force. Why join so late, well the last job I had for about 8 years and the stores where I lived before were slowly being closed and I needed a better plan and option for myself and now my wife. Yes, i'm married!!!!
No kids, which is good for traveling and we do a lot of that! Were planning a trip to Ireland!


Green is my colour


And I love to eat!
Friends
Viewing 9 of 9 friends
Journal
Title....Who Needs Titles!?
Every wanted to know what i'm thinking? Well now you can, just by reading my Journal. Just don't read to much!
Signature
Number of Gaian's i've met in real life: 13
Who will be next!?