About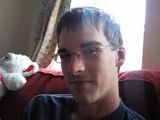 Well I really don't like these "about me" thing because their so inpersonal. Why can't people just be upfront and ask question!? I don't bit...Well I do, but only in bed



But I guess I can give out a few simple things.
I'm 26 and I'm back in Indianapolis, IN working myself to death and soon to be starting my new job as a manager after working for the same company for 6 years. Also going to the local university, so free time is hard to come by. So all and all, just a boring normal life.




Green is my colour


And I love to eat!
Journal
Title....Who Needs Titles!?
Every wanted to know what i'm thinking? Well now you can, just by reading my Journal. Just don't read to much!
Signature
Number of Gaian's i've met in real life: 13
Who will be next!?