About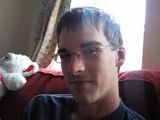 Hello world, a little about me with out getting into to many details. I'm 29 and have been in a on again off again relationship with gaia since it became a thing on the internet. I do a lot of work with satellites and orbital mechanics so if you have any questions about that feel free to ask; what else, well you can just ask.

Green is my colour


And I love to eat!
Friends
Viewing 10 of 10 friends
Journal
Title....Who Needs Titles!?
Every wanted to know what i'm thinking? Well now you can, just by reading my Journal. Just don't read to much!
Signature
Number of Gaian's i've met in real life: 13
Who will be next!?