My Life
"I've been pushed around, knocked down, and walked on but the only thing that keeps me going is the thought of knowing I have someone who loves me for who I am."

I was so edgy and full of angst 5 years ago... at least out of all this I found my wife through gaia.
Interest Tags
Favorite Movies/Anime
Favorite TV Shows
Favorite Reads
Favorite Music/Bands
Hobbies/Interests
Wish List
xXxDaBugabooxXx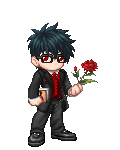 Last Login: 05/21/2016 5:28 pm
Gender: Male
Location: Michigan
Birthday: 08/04
About Me
5 years ago I made this account out of sheer boredom. I was an angsty teen just looking for something to do and people to talk to. Now I'm 24 and it all seems like a blur. The people I friended are vague memories of a past that seems so far away. I get online once a year or so to try to remember what I left behind. Like the old saying goes, "The past is history, tomorrows a mystery, but today's a gift that's why its called the present." Make every moment count, cause you just might not realize who it may effect.