About
---
New to my profile? Read here.
I'm questing 10,000 comments, so I need different people to comment on my page. At the end of each month, five lucky commenters would be picked for free avi art.
Commenting more than once is not going to increase your chances, so don't waste your time.
People who have been picked (For July):
1. xBroken Porcelainx
2. xXQueen_of_the_BunniesXx
3. Dave Loire
4. CloudVZ
5.Questions box
People who have been picked (For August):
1.
2.
3.
4.
5.
---
Name: Cross (That's what everyone calls me at school for some strange reason. My real name is Amy.)
Gender: Female
Current Age: Guess
Interests: Not much.
Favorite Movies: The Crow, Dead Silence
Favorite Bands: The Birthday Massacre, My Chemical Romance, Tokio Hotel, Kill Hannah
OoOoOoOoOo
I...
- think life is just a game to keep God entertained
- am collecting different colored Converse
- consider tomatoes VEGETABLES even when they're fruits...(lies)
- love pandas
- like socks and sometimes stare at them for hours
- can type 96 bytes in a minute
- can't live without daydreams or music
- wish that I could have wings
- hope Bush could die in the next two hours
- am wondering why you are reading this right now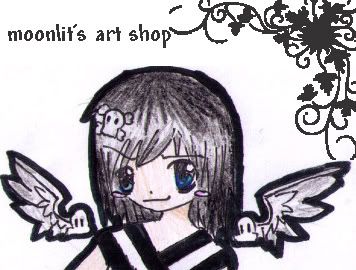 Banner made by kibascheza, thanks Kibascheza!

Banner/Sign made by XxRadioactive_CerealxX! Thanks you! Go pm him to get your name in Japanese, it's only 1K! Go now. Before I ******** bite your head off. D<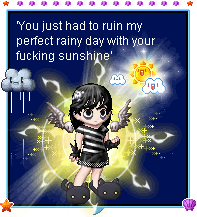 Signer made by courtney6776, thanks Courtney!
Friends
Viewing 5 of 5 friends
Journal
100 Depressing Themes Challenge
Just like what the title says. 100 entries of depressing things.
Multimedia
Signature

I sometimes give out free avi art to random people who comment. So comment now.

To see samples, go on my profile and scroll down the 'About' section.

And no, I will not accept random friend requests, sorry.