About

Feel free to talk to me when you wanna ^_^
and i love all my friends that make each of my days the best that they can ever be, who are there for me for whatever the reason and are always by my side. <3 you all, were all like family, no we ARE family <3
~~~~~~~~~~~~~~~~~~~~~~~~~~~~~~~~~~~~~~~~~~
MATES- my awsome new school/academy. An elite school filled with smartasses and get by smart people, how I made it? Is still a mystery on how a spazzy person like myself made it, I'm certainly not the smartest person you'll ever see, but I guess somehow and some way I am in their eyes. What's to complain then? XD Couldnt ask for more real people than the people I have found here...people in my other school were shallow and one way that there was no one to trust, everything was always based on what you did and judge based on what you're capable of, not on who you are. Here I can do as i please and can never be afraid to raise my voice, it'll always be counted as voice heard, not one ignored. I have a place safe enough for me to stand openly without the fear of being myself.
Whats more? The lovely people that I'm with ALL THE TIME, and not ashamed of every SECOND with them =3
Alyss- sarcastic, funny, outgoing - nomatter wat stupid antic I may ever do, she always seems to laugh and find ways to make me feel better when I'm down =D We're always talking, going from school to random things then to serious things, it never is quite a dull moment when an Alyss enters and makes me nearly laugh to the floor.
MK- giving, open, reasonable - always the first to think things logically in our trio (Marykate, Alyss, and me), me being spazzy and out there some times, alyss and her outgoingness, and her always butting with something with hilarious. She's honest and sees things through colors I dont think anyone else ever had before, something beyond wat the eye can see.
Doug- intelligent, dependable, caring- if there's ever a person who could spill the world in the simpliest of terms itd be this guy. Through my every possible confusion, is a guy that seems to understand and can lay out what everything I need to see and know. Truely an amazing guy to find in this world now a days
Anthony- understanding, inspired - one of the guys in my new school. He's probably one of the guys I've meet so far that has excellent morals and dreams toward his future and the people around him. Caring and considerate towards almost everyone. The leader in the fanfiction we're making and also a grand anime euthiast like me =]
Kevin- awsome, funny, comical - someone that'll be just as rude as he is funny, and get away with it! Met him and got to know him quite well, we're buddies till the end of time!!
Pat- mature, easy-going, laid-back - always dressed and ready for action. He's uber smart and always knows what answer is next, he's also very funny in the sense that he always leaves an obvious comment that leaves us all on the floor laughing =D
Matt- wow, funny, one of a kind - hilarious in all cases you'll ever find! He's amazingly pervy, and gets away with it, though is hilariously funny when combined with Kevin. He's always laughing and procrastinating somewhere in his life, but always makes time to leave some laughs on us XD
well theres buncho more I should add, but i'm not since i kinda dont have time XD but i will laters when I have the time to write the INFINTE amounts of stuff I should say lol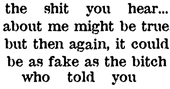 Total Value: 24,550 Gold
After Exclusions: 12,000 Gold
[Item Information]
Item List:
Sparkling Eyes Clown Makeup
Black Solar Flare Belly Tattoo
Black Star Arm Tattoo
Black Star Face Tattoo
Naruto Kunai
Lovely Genie Double Silver Earrings
Velvetine Neck Ribbon
Bloody Eye Bandage
Black Goth Boots
Lovely Genie Red Bangled Bra
Devoted Pawn
Black Net Top
Raven Black Kachina Dancer\'s Wings


Friends
Viewing 12 of 14 friends
Journal
My Damn Journal!
Multimedia
Signature
~Live, Love, Laugh...at me~