About
HI. My name's Becca, I'm 19 years old. I'm Canadian, I live in an igloo and ride my dogsled to school.
I'm into year two of a four year degree in Criminology. Honest to god, no idea what i'll do with it. Would you believe me if I said I was excited to go back to school?
I want to live somewhere surrounded by the outdoors. Like in the mountains, or in a forest! Anyways, I hate living in the city.
Now, some more about me. Let's see, I'm a not-so-average dork. I'm filled with nerdi-ness. I don't watch anime, I prefer real literature. In my room alone, I have over 100 novels, and over 20 short stories; I add to my collection everyday. I'm a

music addict,

you'll never see me without my ipod tuned into my head. Short attention span FTW. I basically love all kinds of music, except jazz. I NEED WORDS TO COMPREHEND. I love action/comedy movies. Getting more into horror movies with the encouragement of my friends. I am an

avid animal lover,

i've grown up with them my entire life. I love video games,

paint balling,

horseback riding, writing, and i've recently fallen in love with rock climbing. Although, i'm terrified of heights, so it's kind of a 'one step forward, two steps back' kinda thing. I'm slowly becoming an atheletic person. I started with books and computers, and i've moved on to running (for fun, wierd, right?) and paintball.
I'm also a bit of a

Star Trek fan

[Okay, huge fan], I love it like a fat kid loves cake. What can you expect when being brought up with trekkies for parents?
I like to hang out with friends, but I am generally an introverted person.
I am not an organized person, the lack of floor space in my room can prove it.
I'm lonely, but there's not really much I can do about that for the time being.
If I'm single by the time I'm thirty, so help me eHarmony.
I absolutely love storms. The fast winds, the rain, lightning and thunder.


TLDR;


Pretty much to sum it up, drop me off on an island with a book, paintball gun, my ipod and a boxed set of star trek movies, and i'll live happily ever after.

Side Quest: Obtain answer to life.
Favorite quotes:

DO IT TODAY, IT MIGHT BE ILLEGAL TOMORROW.

I STOPPED FIGHTING MY INNER DEMONS.
WERE ON THE SAME SIDE NOW.

WHEN NOTHING GOES RIGHT, GO LEFT.

DON'T STEAL. THE GOVERNMENT DOESN'T LIKE COMPETITION.

IT TAKES SKILL TO TRIP OVER FLAT SURFACES.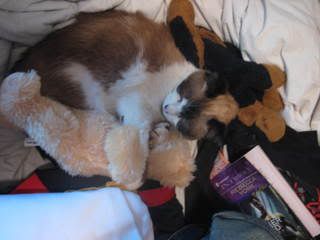 Friends
Viewing 12 of 39 friends
Journal
wright you thoughts, share a comment
just wrighting , what i feel i can share, or i just need someone to talk to. hi kayla, rojen, and kelsey =)
Multimedia