XxMoonlightxDragonxX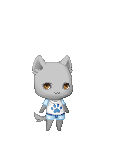 Last Login: 12/09/2013 2:59 am
Registered: 05/13/2008
Gender: Female
Location: San Andreas, CA
Birthday: 02/10
Get to know me
I'm a stay at home mom with one amazing son! Living in a small town, longing for the city life. I love music, writing, and the ocean.

School just started for my son, I can't believe he is in 2nd grade now! Soon, he is going to be 8 years old!

I am on a personal journey with 2 goals in mind. The first, is to lose 200 lbs and so far I have lost 25 lbs. The second, is to find myself and discover who I am on my own.

I have figured out what I want to do, and how I am going to do it. I know what my fears are, but I don't fear them so much anymore. I have accepted change, with an open mind and an open heart. I will do anything for my son, even give my life for him to live his own. I still have some issues to work out, but I have made great progress in finding who I really am. I love and accept myself for who I am, even if nobody else will. I am proud of who I am.
A Few of My Favorite Things
Favorite Movies/Anime
Favorite TV Shows
Favorite Reads
Favorite Music/Bands
Hobbies/Interests