XxKatniss_Everdeen13xX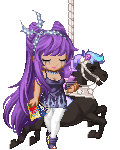 Birthday: 10/18
Interest Tags (:
Favorite Movies/Anime
Favorite TV Shows
Favorite Reads
Favorite Music/Bands
Hobbies/Interests
About Me (:
Hey, I'm Paula!! (: I'm known as Kat or you may call me whatever you like, I don't mind. (: I'm 19 years old. I'm half German & American. I <3 The Hunger Games Trilogy & a major fan!! (: I'm also a fan of City of Bones & The Divergent Trilogy!! (: I'm a random, crazy, sometimes shy, and weirdo in my own way kind of person!! (: Many people say I'm a sweetheart. I <3 meeting new people!! (: Of course, I'm not a perfect person. (: Will that is all about me!! (: If you would <3 to know more about me please don't hesitate to pm me!! (: Feel free to message me on Kik: cutiecookie2013 & Skype: cutiegermangirl2013!! (: Mkay Peace!! (:


"I think everybody's weird. We should all celebrate our individuality & not be embarrassed or ashamed of it. ~ Johnny Deep (: "