xxiii-nevermore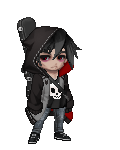 Details
Birthday

11/19
---
Interests
Favorite Movies/Anime
Favorite TV Shows
Favorite Reads
About

Formerly known as "MistressRosalyn"
You have all permission to continue calling me "Ros" or "Rosalyn"

"I became insane, with long intervals of horrible sanity." -- Edgar Allan Poe

Welcome to my insanity.

My name is Angel Rosalyn, I am a writer of a darker sense with muses that heavily plague my mind.

A angsty vampire who's desires can get the best of him.
A ruthless mobster who's entire life revolves around death.
A anxious mechanic who tries to find hope in a post apocalyptic world.
And a loyal phantom who's only job is to protect.



Ethan Peryal

|

Jack Costello

|

Cooper Preswick

|

Sean Deluge



The last remaining members of the once prestigious "Family".
And they bid you well.

Friends
Viewing 12 of 62 friends
Journal
Angel Rosalyn's Journal
Stories and random things of "The Family"
Multimedia