About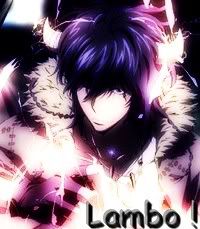 Name:Lambo
Age:25 years old
Nationallity:Italian
Occupation:Assassin
Association:Bovino Family
Vongola family
Personality
Lambo is a 5-year-old Italian assassin affiliated with the Bovino Family. He comes to Japan to kill Reborn, so he can prove that he is worthy of becoming his own family's boss. He first appears on Tsunayoshi Sawada's window and tries to kill Reborn. However, he is a complete crybaby, and is no match for Reborn. His future dream is to rule the world. While being taken care of by Tsuna, Lambo becomes very appreciative of his mother, Nana. Lambo dresses in a cow suit complete with a tail, and has a huge afro with horns on the sides of his head which gives him the appearance of a bison. He possesses the Ten-Year Bazooka, which switches the target with their own self from ten years later for five minutes. Every time Lambo loses his cool, he uses it on himself, switching with his 15-year-old self. In this form, he switches his cow suit for a casual suit and cow-print shirt.[3]
Although Adult Lambo is shown to be handsome, he remains a crybaby, and is often heard saying things that imply his future involves cleaning toilets. He also begins many sentences with "Yare yare" (loosely translated as "Oh my!"; "Oh gosh!" or "My oh my" in Viz's translation), and often has one eye closed.[4] Due to the unstable nature of the past affecting the future, Adult Lambo will only know of certain events after the adjustment in the past. At one point, he does not know of the Vongola Rings, but does during the tournament.[5] When Adult Lambo uses the Ten-Year Bazooka, he transforms into his 25-year-old self. This version of Lambo is seen as having much more discipline, strength and intelligence than of his past selves, even being capable of almost easily defeating Levi a than during the tournament in the 5-minute effects of the Ten-Year Bazooka.[6]
Abilities
The 5 year old Lambo is typically seen toting weapons like machine guns and bazookas. In his 5 year old form his only notable ability is his Electric Skin (電撃皮膚?, In Italian "Cuoio Elettrico") which allows electricity to harmlessly pass through his body.[5] In the future although still in his younger form Lambo is capable of activating the Vongola box which takes the form of a bull that Lambo can ride on. His weapon is Ranpou's Shield, body armor that can give out a huge electrical burst. In his 15 year old form he still possesses Electric Skin. However he has another ability called Thunder Set in which he summons lightning and charges it through his body. Thunder Set is followed by another technique called Electrico Cornata (電撃角?) which charges lighting through Lambo's horns and causes severe shock to whoever the attack connects with. However it rarely works as it is short range and easy to dodge. The 25 year old Lambo invents the Perfect Electric Skin in which no form of electricity can do him harm. He also created the Electrico Reverse which allows him to take electricity passing through him and gathers into his hand. His final ability is an enhanced version of Electrico Cornata in which he can use the electricity in his horns and give it the shape of a blade which makes up for some of its short range.[6]
Friends
Viewing 12 of 117 friends
Signature

Elegant Black Satin Vest
Kong sang scarf
Elemental wings
Charcoal Book Check
Charcoal tail Check
Tsunami KO classic coat Check
70s white shirt Check
70s white pants Check
Light blue tennis shoes Check



plsss HElp