xxBeeBeexx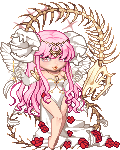 Details
Last Login

03/09/2014 5:05 pm

Member Since

01/16/2007
Gender

Female

Birthday

10/12/1990
---
Interests
About

Rosamund\'s Redemption (Innocent Temptation (2))
Light Magic (Legs)
Lady Chimes (Long Armbands)
Madam Zelle (Headpiece and Earrings)
Loving Manner
Haute Modena (Elina\'s Hair (With SC Agape))
Cartier the Dragon (Wings)
Magical Miracle Mage (Puffed Skirt)
Custom Cut (The Runway)
Hello♥.
I'm Gabby (or you can call me Gabz, i'm okay with Bee or BeeBee as well

.)
23 years old.
I am engaged to the most amazing man & I Love him so much♥.
I am a huge fan of k-pop. c:
My favorite color is pink. Other than that I can't really think of anything else haha.
감사의~!
Multimedia