Xx_Pandavik_xX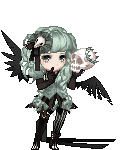 Last Login: 12/07/2016 1:41 am
Birthday: 02/03
Equipped List
Interest Tags
Favorite Movies/Anime
Favorite TV Shows
Favorite Reads
Favorite Music/Bands
Hobbies/Interests
Wish List
About
Gaia member since 2007. Always interested in rp's with medium to advanced lit. levels. If you or a friend needs someone, let me know via PM and I'll check it out.
Signature
Donations welcomed to help me tick things off my Wishlist.
If there are any rp's you'd like me to consider, just PM me a link.