xX_katey_Xx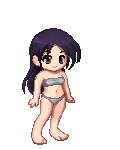 Last Login: 03/04/2014 10:26 pm
Registered: 04/05/2007
Gender: Female
About
I like drawing, writing, reading, and many sports. I don't mind peverted boys or in some cases girls as long as there not being peverted towards me.(unless its far enough in the relationship or whatever) I'm not a lesbian or bi. (i don't care if some one else is it doesn't bother me.)
Sex:female
Age:14
Oh yeah and when i first meet u i might be a little shy or emmbarassed.
Journal
Life and its........
..........