Xx-OmegaZero-xX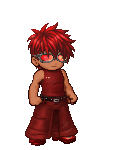 Last Login: 04/10/2011 8:14 pm
Registered: 08/17/2006
Gender: Male
Location: Detroit, Michigan
Equipped List
Omega's Interests
Remind me to update my interests.
Omega's Wish List
About
To be updated later.
Journal
The Legacy of Omega (along with his family information and random tidbits)
A journal to hold Omega's profile, information on him and his family, and other random details related to roleplaying as Omega on Gaia.
Signature
My BRAND NEW SPIFFY PROFILE is now in my journal, nearly complete. Feel free to read it.