xX-FRoZeN_PRiNCeSS-Xx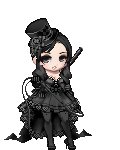 Registered: 04/18/2009
Birthday: 05/01
Wish List
Forums
Posts per Day: 3.66
Total Posts: 8839
About
Hey you. Chat w/ me? Donations perhaps? But I'll love you even more if you give me some free arts Ü

NOTE: Will be on semi-hiatus to full hiatus starting on June 13 (classes will resume by then) until late November.

I'll just be on semi hiatus for the arts I've ordered. Probably go online during Saturday or Sunday for them. Once I've acquired them, I'll go full hiatus. I need to focus on my studies.

IT'S SUMMER! I'M BACK GAIANS!