About


I am xRestlessHartSyndromex. Thank you for veiwing my profile. If you came here to do some stalking, you have come to the right place. I have never been good at talking about myself and I probably never will be. I love to talk but I can be pretty shy at first. I don't have very many friends on Gaia because I can't keep up with them or I always get into fights. So just warning you I'm not ver likeable. I am very honest when I do finally open up. If you think I'm seriously "emo" or "gothic" or some other pathetic sterotypical lable, the joke's on you because I am really a big, girly goof-ball if I feel like it. I am more complex than one word.
I am American, and that will be all that you hear of my location on Gaia Online.
UPDATED 4/17/2013:
I am no longer active on Gaia.
I just came here to fix a few things that I don't want people to see just in case they do stumble upon this lovely profile that I am still quite proud of. Why quit you may ask? A couple of reasons, the community, my current priorities, the staff,....hmm almost everything. I did stay here alot longer than I would have because I love the avatar items, but I discovered dressing like this in real life doesn't compare to the hours of unending gold making on this site. There is a great big world out there. There are better socia websites, anime sites, and MUCH MUCH MUCH better games to explore.
So with this I bid you a farewell ♥





Behind the pixels:
{x}~{x}~{x}~{x}~{x}~{x}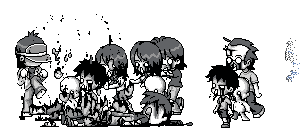 "What's so fun about life if i don't have you to share it with."




A girl asked her love, "Do you think I'm pretty?" He said, "No." "Do you want to be with me forever?" He said, "No." She asked him, "If I leave would you cry?" Again he said, "No." She had heard enough. As she walked away with tears streaking down her face, he grabbed her arm and said, "You're not pretty; your beautiful. I dont want to be with you forever; I NEED to be with you forever. And I wouldn't cry if you left; I'd die." <3 Post this on your profile if you believe in a thing called love. <3




"You said you couldn't stand to see my heart broken.....
so when you broke it,
did you close your eyes?"




A white man said, "Colored people are not allowed here." The black man turned around and stood up. He then said: "Listen sir....when I was born I was BLACK ""When I grew up I was BLACK, " "When I'm sick I'm BLACK, ""When I go in the sun I'm BLACK, " "When I'm cold I'm BLACK, ""When I die I'll be BLACK." "But you sir." "When you are born you're PINK". "When you grow up you're WHITE," "When you're sick, you're GREEN, ""When you go in the sun you turn RED, ""When you're cold you turn BLUE, " "And when you die you turn PURPLE."And you have the nerve to call me colored?" The black man then sat back down and the white man walked away.Put this on ur profile page if u HATE rasicm.




92% of the teenage population has switched to rap. If you are the 8% who still rocks, well. you rock!




98% Of Teenagers Say "I Love You" And Don't Mean it. If You Are The 2% That Does, Then Copy And Paste This In Your Profile




I'm a liar,
because I don't tell you everything.
I'm a slut,
because I like boys.
I'm weird,
because I'm not like you.
I'm a nerd,
because I actually like reading sometimes.
I'm ugly,
because I don't look like you.
I'm a fake,
because most of the time I'm happy.
I'm stupid,
because sometimes I'm wrong.
I'm a prep,
because I like looking nice.
I'm a punk
because I hate listening.
I'm done,
being labeled.
Put this on yer profile if u hate being judged




A girl and a guy were speeding over 100mph on a motorcycle. Girl: slow down i'm scared. Guy: no this is fun. Girl: no it's not please it's way to scary! Guy: then tell me you love me. Girl: i love you. Now slow down! Guy: now give me a big hug. She gave him a big hug. Guy: can you take off my helmet & put it on yourself? it's bothering me. In the newspaper the next day: A motorcycle crashed into a building because of break failure. Two people were on it and only one survived. The truth was that halfway down the road the guy realized that the breaks were out and he didn't want the girl to know. Instead he had her hug him and tell him she loved him one last time. Then he had her put his helmet on so that she would live even if it meant that he would die. If you would do the same for a person you love then copy this into your profile




IF YOU BELIEVE IN JESUS CHRIST PUT THIS IN YOUR PROFILE. DON'T IGNORE THIS BECAUSE IN THE BIBLE IT SAYS IF YOU DENY HIM. HE WILL DENY YOU IN FRONT OF HIS FATHER AT THE GATES OF HEAVEN.THIS IS THE SIMPLEST TEST: IF YOU LOVE GOD AND YOU ARE NOT ASHAMED OF IT COPY THIS AND PUT IT IN YOUR PROFILE. GOD WILL SMILE AT YOU




I asked Jesus, "How much do You love me?" "This much," He answered. Then He stretched out his arms and died.
(__/)
(+'.'+) Copy and paste Bunny
('')_('') on ur info to help him gain
world domination.




---[]--- put this
---[]--- on your
---[]--- page
[][][][][] if your
---[]--- not embarrassed
---[]--- to tell
---[]--- others that
---[]--- your a
---[]--- Christian

Take the Magic: The Gathering \'What Color Are You?\' Quiz.




Oº°'¨ •·.·´

?

`·.·• ¨'°ºO


`•.•?•?• ••.•´*׺°"˜`"°º×*׺°"˜`"°º×*`•.•?•?• ••.•´

`•.•?•?• ••.•´*׺°"˜`"°º×*׺°"˜`"°º×*`•.•?•?• ••.•´

`•.•?•?• ••.•´*׺°"˜`"°º×*׺°"˜`"°º×*`•.•?•?• ••.•´

`•.•?•?• ••.•´*׺°"˜`"°º×*׺°"˜`"°º×*`•.•?•?• ••.•´

`•.•?•?• ••.•´*׺°"˜`"°º×*׺°"˜`"°º×*`•.•?•?• ••.•´

`•.•?•?• ••.•´*׺°"˜`"°º×*׺°"˜`"°º×*`•.•?•?• ••.•´

`•.•?•?• ••.•´*׺°"˜`"°º×*׺°"˜`"°º×*`•.•?•?• ••.•´


Oº°'¨ •·.·´

?

`·.·• ¨'°ºO
Friends
Viewing 12 of 14 friends
Journal
*`~JoUrNaL~`*
This journal contains all of the thoughts, stories, dreams, and hopes of a Restless Heart...
Multimedia
Signature

</3 I need a hug </3
I never hate people
I only hate how they make me feel.
But I do hate love
Because love obviously hates me
I thought I would wait forever for that someone to come around
I hate that I was right
You may be able to see me but you will never know how I truly feel inside