xo_KittyCupcake_xo, That's Me.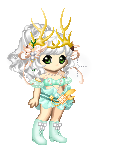 Last Login: 03/30/2016 7:32 am
Registered: 12/13/2008
My Style.
About Me.
Hello there. :3
My name is Renee, Ney, Kitty, whatever really.
I love to roleplay and obsess over Kpop and Korean dramas.
In real life I like to read, write, bake, and all things artsy.
I prefer to be on the computer on my free time.
Yeah... That's about it.