xlove-liz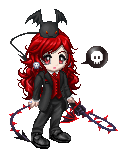 Last Login: 05/19/2013 7:32 pm
Occupation: Child/Musician
Hmmm. Interesant.
Favorite Movies/Anime
Favorite TV Shows
Favorite Reads
Favorite Music/Bands
Hobbies/Interests
What I'm currently questing:
"He ate my heart, and then he ate my brain."
<3
My shizz that I have on:
Things I'm trying to get:
About meh
Well, I'm liz.
I'm not really worth your time.
What more should I say?
My opinions and randomosity in the form of many words
The Crack Head Diaries.
Read my depressing s**t! I command you to! :D
Forums
Posts per Day: 0.26
Total Posts: 713