Forums
Posts per Day: 5.06
Total Posts: 8909
About xKOVAKtheWOLFx
About xKOVAKtheWOLFx
#sixteen #junior #classof14 #almostanotheryearongaia #almostongaiaforfiveyears #oldie.(;

I am currently addicted to youtube and twitter (I know... bad combination!) You can see some of my social media lists below. Just note that those are just some of them.

Most of my time on Gaia revolves around the Breedable/Changeables. Currently, I work in a few shops. I will add links and stuff later, since I am just drafting this out at the moment. Here is just a quick list of shops I currently work in:


Wild and Broken

founder, owner, full time breeder, full time colorist, manager


Project Reformation

part time colorist

The next panel should have my featured pet (a pet that I have recently obtained or had a strong connection to me lately).
Twitter
@tee_raccoon
Youtube
Fireflight37406
DeviantART
xKOVAKtheWOLFx
Avatar art by:

Silverondemonwolf
Featured Pet!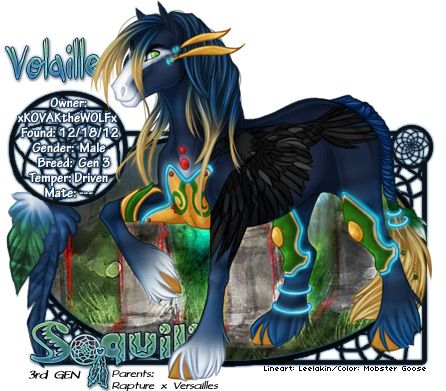 VOLAILLE
Volaille is this week's featured pet because he is the foal that I obtained from Versailles, the first Soquili that I have co-owned. Kamiki was kind enough to give me the chance to place Versailles and Sosiqui's Rature in multpile breeding attempts, eventually resulting with Volaille, Garland (Ryuukishin), and Ophion (Sosiqui)! With this, Volaille is placed into a family tree of over four thousand other soquili! That is a ton of already recorded generations. Once he reaches maturity, he will breed with a mare that is outside of the current family tree, just so that more variation is added.

What I have planned for him is to have adventures with his siblings, and also with another of my soquili, Olor. Together, I am hoping for them to form a bird-related herd, where the members are to have some birdy resembles to them (yes, that means hippogryphs would automatically be accepted. xD)

Previous Featured Pets:
My Aquarium
Dream Avatar Quests
Wish List