About
I am netural recently, which is good, becuz my friends won't called me an anime switcher.
L (Ryuuzaki), I LOVE YOU!!!!!!!!!!!!!!!!!>w<
I love Animes!!!
Anime I have watched so far:

Naruto (Shippuuden, 1-3 movies) waiting for the 4th one....Naruto don't DIEEEEEEEE!!!!!!
Bleach/ Bleach Movie
Fullmetal Alchemist (and movie)
Ouran High School Host Club
Prince of Tennis( few episodes)
Fate Stay Night
School Rumble
Melancholy of Haruhi Suzumiya
Ultra Maniac
Yamato Nadeshiko Shichi Henge
Full metal Panic ( season 4)
Samurai Champloo
Spiral
Death Note(just watch and finished recently)
Zero no Tsukaima
Jigoku Shoujo

MY DREAM AVI!!!!! PLEASE DONATE
THANKS!!!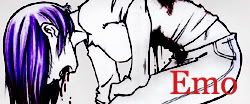 Being an Emo means to Spill Blood!!!
Friends
Viewing 12 of 84 friends
Journal
Emoness Of Doom Journal
This is a Journal contains all my life experiences and memories...and how I feel about anything that happened to me...
Multimedia
Signature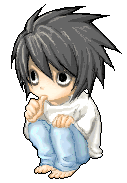 L, U arE sO CutE!!!! @///@