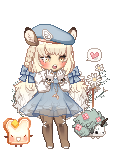 Birthday: 11/10
Artsu Collection // Rando Screenies // Comment // Message // Trade


Used to be ---> Dittles de-faerie
I cross dress sometimes, I'm a girl if you're confused..... LOLOLOLOL!!
Either

quitting

or hiatus. Simple as that! x3

I spent most of my time on this site mainly on zomg.
Some peeps I got to know really well and some I wish I didn't LMAO.
Unfortunately, I don't draw anymore... just problems.

I wish you guys the best, take care of yourselves.
Be happy be healthy 8D <--- cheerios commercials D:
I'm not weird I swear... //lying ene; -coughs-
I want to thank everyone for being a part of what I had here.
I'm grateful to have met some of you.
You know who you are....if you don't -shakes fists angrily- >;0
Thank you for being my friend. ouo/
For the ones that left and the ones that stayed.
I'll treasure the moments of what was spent.


12/15/14
#Taken
</3

"Never regret anything, because at one time, it was exactly what you wanted."