Xantetsuken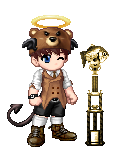 About
Hello all.

You can call me Xan.

If you catch me online, most likely I'll be fishing [Durem]. If not, you'll see me being a fail vendor in the marketplace. I also tend to frequent the exchange.

I'm a simple guy. I love my family, friends, Mathematics, Tennis, and Running. Those are all I need to pretty much get through this lifetime.

Bored yet? Thought so. :B

K thx bai.