x X Cissy x Black X x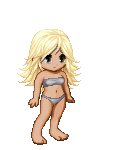 Last Login: 04/17/2009 10:22 pm
Registered: 04/05/2007
Gender: Female
Equipped List
No items equipped.
I will be your slave for a month if you give me wings!
DRAW ME NOW
please&thankyou
Interests
Remind me to update my interests.
AbOuT mEh?
Hey! I'm Laney, and I'm 14 years old. I like profile comments, friend requests, and gifts. <33 I like it when people draw me. It makes me smile. :]
I donate when I have enough gold.
Now, I only have about 700, (yes, that's seven HUNDRED), so don't start asking me for donations. It's not cool.
I like Harry Potter and any kind of music. My myspace says, "Play it for me, chances are, I'll like it." I DON'T give out my MySpace to people on gaia. Only my IRL friends get that.
I don't give out phone numbers.
I don't give out email addresses or chatroom names.
We're on gaia, we can friggin talk here.
I don't cuss.
i don't cyber.
Imma vegetarian.
I'm not prejudiced against any race, religion, OR SEXUALITY. So suck it.