wonderfinch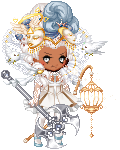 Details
Last Login

12/17/2014 11:16 pm

Total Posts

13110

Posts Per Day

3.39

Member Since

06/29/2004
Gender

Female

Birthday

12/06
---
Interests
Favorite Reads
About
About Me:
My name is Cimone, and I've been lurking around Gaia since June of 2004.

I'm a pretty boring person. I work with children. When I'm not busy with my job, I'm very active in lolita fashion, and I'm one of the admins on the EGL Livejournal community.






This is what I look like in lolita~



If you have any questions or would like to be friends, feel free to drop me a line via my profile comments or PM~ And if you'd like to find me on other sites, my username is almost always wonderfinch (with the exception of TinierMe, where my username is wonderfinchy) c:]
Friends
Viewing 12 of 50 friends
Journal
the birdies' words
the fascinating things that finches say whilst you're asleep.