About
Winged Timberwolf
I have
the spirit of the wolf. I observe silently, and I am strong and proud.
I prefer
to work with a group (or a "pack&quot wink rather than by myself.
I always
try to be honest about myself and what I do.
I am
also a dedicated artist attending University.


I can
be serious when I need to be, but I also like to be silly in things I say/do/write/eat/combine/thing about.


I am
also responsible for your missing left sock.


Please
don't send me random friend requests. Try to get to know me first!
Friends
Viewing 12 of 62 friends
Journal
The Journal of Whatever
The End is near...
Whatever it wants to be, it will, and it just depends on what it feels like. Guests are welcome, just...don't feed the Journal. It tends to get hungrier, and will eat anything....ANYTHING. Also don't submerge the journal in water, for it will mutate
Signature
♥
Remy the Drummer Mouse
♥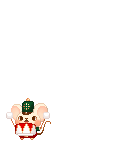 poking my head back in here for lake kindred + zomg nostalgia.



Questing Sakura Pegacorn Fluff.