wilderness.magic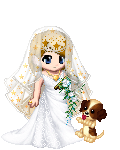 Last Login: 09/16/2016 9:29 am
Registered: 02/15/2005
Gender: Female
Location: Getting married to the most perfect man EVER.
Equipped List
Interest Tags
Favorite Reads
Hobbies/Interests
Wish List
About
I'm getting married! I am marrying my steady bf on Gaia. Check out my journal for the full story! If you'd like to donate, feel free to visit my quest topic. Details located in my journal.

I'm also an avid RPer...PM me!
Journal
Daine's Journal
A collection of stories, thoughts, wanderings, and a bunch of fictional writing. A place to develop my characters or just think out loud... You'll never know what may be true or not.