White Linen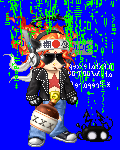 Registered: 02/28/2004
Gender: Male
Location: Montreal,Quebec,Canada
Interests
Hobbies/Interests
About
I like melted plastic. With extra cheese and large pineapples. Please be a super armadillo phone while i get to zanzibar with papu extreme god of munchies, he likes to contemplates the works of tiny little peporoni sticks on acid.
Signature
Puppet smoking a sausage, your argument is invalid

Shiva is my homeboy!
http://cats4gold.com/