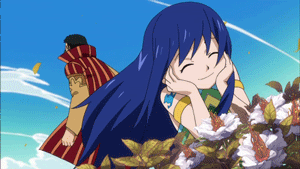 Uhm, hello! I'm not quite sure what to put here at the moment
and everything here seems so complicated..
, so.. I suppose I'll just state the important things?
Well, my name is Wendy Marvell, it's a pleasure to meet you all! I'm from the guild, Fairy Tail and I use the dragonslaying magic that involves the sky. Even though I'm a dragonslayer, I don't have much offensive spells.. But, I would hope to be of help with my healing and buffing spells at least!
I..I don't really have much to say.. I hope I can speak with you guys soon!