House
wendie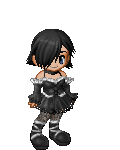 Last Login: 04/15/2007 6:52 pm
Registered: 03/24/2004
Gender: Female
Location: in the deepest pit of...........Washignton
Equipped List
Interests
Remind me to update my interests.
Wish List
alittle insite to the masive vastnest of what i can call my huma
hi i like a lot of music and if you dont know i'm a 3dyas grace, my chemical romance and panic at the disco fan. although i dont dress emo or gothic you can easly guess buy reading my quote that its slowly eating at me but you'll get over that. i sing and write my own songs and i even play the guitar alittle bit soon i will be graduating high school and going on to high education facilitys and then i can accually get my music carrer started but until then i spend my spare time on gaia talk to future fans and followers. NE ways i really am looking foward to meeting alot of people on gaia hopefully with the same interest as me.
Journal
when i die maybe i will be remebered
this is not a diary!!! this is the only way i can say what i'm thinking with out hurting anyones feelings at the time this is also where i will be discussing my future disicions that i could use adivce with but never tell anyone.
Signature
fighting the demons within me while desperatly trying to show the truth of how i think and feel.