Wealote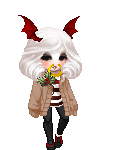 Details
Total Posts

1487

Member Since

01/17/2006
Location

Toilet Water, Canada

Occupation

Funeral Pre-Planner

Gender

Female

Birthday

02/13
---
Interests
About
'Ello, 'ello.
I'm
Wealote
!
I'm in my 20's and I live in Canada.
I'm engaged to
Yozshand
irl
We have two cats together (Dudley and Lizzie)
I am currently in school studying to get my Funeral Pre-Planning license and in 2017, I will be starting school to become a licensed Funeral Embalmer!
My favourite TV show currently is
It's Always Sunny in Philadelphia
Also, I'm currently dreaming this:
That's pretty much it.


Art drawn for me!
By SmiIe
TOODLES.

Signature

questing whole buncha stuff!
holy tits! thank you, yokies!