Wish List
House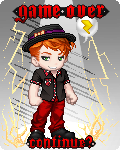 Last Login: 05/17/2013 9:24 am
Registered: 03/18/2004
Gender: Male
Location: Keystone City, KS and Central City, MO
Equipped List
Interests
Favorite Reads
Hobbies/Interests
About
My name is Wally West. I'm The Flash, the fastest man alive! I'm awesome.
Journal
Speed Reading-The Wally_West journal
This journal is a collection of rp ideas, comic book reactions, and various theories/ideas that run through my hyperaccelarated head.
Signature
The Doctor's name has been there all the time.

His name is a warning and it defines him.

The Doctor's name is RUN.