About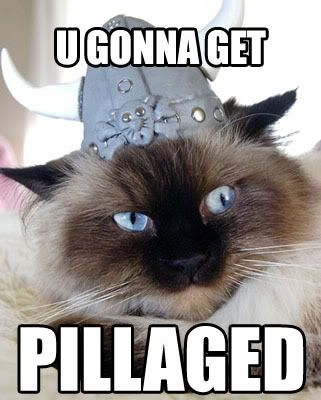 Ten Fathoms deep on the road to hell.....yo hpo ho and a bottle of rum! The Dread Pirate Smitty's Last Revenge! Ay, t'is! I have returned, and rumors of my death were direly and greatly ovverexhaggerated. Round Cape Horn those God Cursed poxy Spaniards set up a blockade and the HMS Lizzy Lee rammed em good and put up a devil of a fight. But they pursued and we were knocked for a loop into the long slow decent to Davey Jone's Locker. Only me and my new first mate Angela survived and her only by gnawing off her own leg. Ay, fierce one she is. But we've come up as a new kind of terror on the Asian coast. The Gilded Orient has a new scourge, the Wako Smitty no Yuuku, the Gaijin devil, and his first mate stumpy. Bring on the next round! Abandon all hope all ye who enter here!
Donators (Booties I've plundered!):
Black Rose The Punisher: Aquarium 2008 Easter Egg, Aquarium Hermit Cat, 8000 G
22Maria22: Cheepz, Aquarium Sand Golem, Kindle the Fire Spirit
Kat Daniels: Celebrity Date
Fallensammy: Tama the Lucky Cat
Labhouise: 20,000 g, Aquarium Mountain Background, Aquarium Green Pebble Terrain, Aquarium Narwhale, Aquarium Penguin, Elegant Red Satin Coat
Sachara: Bullseye Shirt
Blackrose_knight: Cockatrice Waltz
sunspiral9: hook hand; Aargh! boots
LaReine Grunnette: Kindle the Fire Spirit, Coconut Bra, Lei, Natural Grass Skirt
Tommy_teh_Grunny_King: White Drome Egg, Smok the baby Dragon, tons of Grunnies, Ancient Katana, Demonic Anklets, Oculus Magica, Shadowlegend, His whole friggin account
The Cancer Fairy: The Cigar
The Husky Fairy: Gift of the Gods
Friends
Viewing 12 of 94 friends
Journal
Captain's Log and Rutters
Aye me hearties, keep these secret, keep these safe. And above all, dont let them fall into the hands of those poxy Portuguese bilge rats!
Multimedia
Signature
And guess what's inside it!
http://www.gaiaonline.com/forum/gaia-aquarium/bump-my-mediocre-bootay-anchor-bugs-and-lt-grunnies/t.58229481/
Grab my mediocre booty if I be glowin!