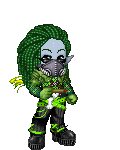 Last Login: 09/17/2012 9:05 pm
Registered: 03/10/2005
Gender: Male
Location: McHenery, IL.
Birthday: 06/06/1989
Occupation: Philosopher
Equipped List
Interest Tags
Favorite Movies/Anime
Favorite TV Shows
Favorite Reads
Favorite Music/Bands
Hobbies/Interests
Wish List
About
You don't worry about me, I'll worry about me. I play instruments and contemplate the mysteries of life in between pursuing a better life, working and going to parties. I don't think I'm better than anyone else unless they think they're better than me. I think people are too quick to judge and talk down to each other. If a little more common respect was established between everyone from every walk of life, the world would be, by far, much more liveable. But as of now, I'm an egocentric, self educating hard worker. That's my life and I'm happy with it. You do't need to go to school to be smart, you just have to posess an inborn curiosity. That didn't tell you too much about me, but I'm not going to provide too much ammo. After all, I'm sure I'll make some enemies over the internet...not that I care, that's what I'm here for. Also, all your mead is belong to me. VIKINGS!!!!!!!!!!
My Aquarium
Journal
The Anarchist and the Aristocrat
How could you truly describe something if everything is subject to perspective? My description would not be accurate.
Signature
Music is all about tastey noises. Mmmmm, noise....