Vynndetta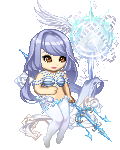 Gender: Female
Location: right behind you.... boo! ;)
Occupation: Artist/nerd/avid RP-er
Equipped List
Interest Tags
Favorite Movies/Anime
Favorite TV Shows
Hobbies/Interests
About

I'd love to know about you! So PM me because I love to just talk to people. I'm usually available since I keep my computer screen open while I do other things.






Journal
My journal
CoMmEnT oR fAcE mY wRaTh! my mind, spilled onto a page... it may get messy.
Signature
Sorry if this offends, but I'm on too much prozac to put up with whiny people.