Virgil_Ashwood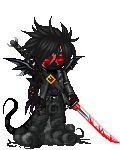 About

Age: 18
Sex: male
Location: ********- known
Status: Single
Favorite Thing: PSP (hacked one broke >.<)
Favorite Actor: Robert Downy Jr.
Favorite Video game Character: For obvious reasons, Dante
Marvel vs Capcom 3 Team: Zero, Spiderman, Dante

Favorite Games: Damn, thats hard...
Dark Souls (Every death taunts me and every victory is a triumph),
Mass Effect 2 (For story),
Deus Ex: Human Revolution (Fun tactical action and cuz I couldn't get into Metal Gear),
and Persona 3 Portable (Because its ******** awesome).
Friends
Viewing 12 of 29 friends
Multimedia