Violet Waltz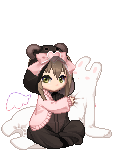 Registered: 09/20/2008
Gender: Female
Birthday: 12/24
All About Me
( ͡° ͜ʖ ͡°)

Hey there, I'm Melsa.
I am __ years old.
Love anime, manga, cosplaying, sewing, gaming...and chocolate.
That is all.

( ͡° ͜ʖ ͡°)

Random Links:

[Shopping][Tumblr]
[Comment]

3DS Friend Code: 4270-1116-7297
If you have Animal Crossing New Leaf or Pokemon X/Y or Pokemon S/R add me.


Wish List