VETISx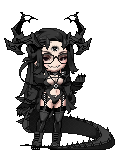 Details
Member Since

06/30/2006
Gender

Female

Birthday

10/08
---
Interests
About

I'm 24. I draw stuff... sometimes.
Art Tumblr
Bears are my favorite animal.
I play games on PC mostly, sometimes 3DS and PS4.
Currently playing: Overwatch
Bloodborne, Dark Souls, Bloodborne, and Monster Hunter are some of my favorites.
Music i tend to listen to most is metal, such as atmospheric black, folk, symphonic, melodic, death, doom, or whatever else sounds good. Dungeon synth, dark/ritual ambient, martial industrial, neo-classical, j-pop/k-pop, and lots of edm, are other things i like too.

Multimedia
Signature
v click for art v



Playing: Nioh/R6 Siege
PM's are OK.
[
lol
]