Necromancer
i will bring your loved ones back but it will cost a heavy price your soul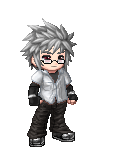 Birthday: 09/09
Equipped List
Interest Tags
Favorite Movies/Anime
Favorite TV Shows
Favorite Reads
Favorite Music/Bands
Hobbies/Interests
Wish List
About
well my name is justin and im 20 year's old. im a joker from hell! if u want to know more feel free to ask.
those loved by a necromancer
i wouldn't sleep i wouldn't dream till i found a way to bring you back even if i must give my souls for yours even my life to bring you back to see you one last time.