Verloki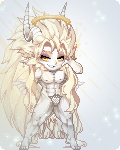 About
tiring
click of your mouse by satisfying your unimpaired interest in me."
"I can be all that you want me to be." A slow, smooth curve spread across his mouth, slowly twitching into a thin smirk, "I go by the name of Verloki online. Do not forget it. Treasure it. I would love to hear the sound of my name roll over your delicate lips."
"Take some time to get to know me and I might just be
very
courteous to you. Get on my good side and you may just catch a glimpse of it." The male turned his face away with a soft, entertained scoff, "..Persuade me to take interest."
"I also warn you not to fall for this one. As much as I want you to scream my name I
am
particular about my victims. Yet I shall confide in you that my untamable soul longs to be subdued .. some day."
He leaned forward and brushed his lips ever briefly against yours, his growled words tickling, "I have a world to present to you. All you have to do is take me up on my offer. ..Think about this, mon chéri."
Journal
Let Me In
Ensnaring your mind with inexpressible habits of discharging my nerves, an occasional saga, and absurdity from unknown empires.
Multimedia