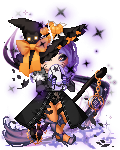 Birthday: 06/06
About
TEA!!!!!! Me LUV TEA!!!!!!!

(Calms down

) Sorry about that, anyhow. My name is Verity Hattress (Female version of the Mad Hatter) My original name was Akantha Crimson before I had to run away from The Land of Hearts to The White Queen's Country. My best friends include Alic Lewis Dodgson (Alice), Panya Moehau (Dormouse), and Variel Cheshire Felino (Cheshire Cat)
To Do List
- Finish Certificates for Durem's Avi Contest.
- Write request fan fiction for Psycho Ice, Ronin ninja gemini, and Sonchi Sama (In Progress)
- Write Latest Episode of The Hand That Determines My Hours


Journal
The Life Of Verity Hattress (Mad Hatter GenderBend)
My real name is actually Akantha Crimson, but you can call me Hatta. I escaped from almost being executed by the Queen of Hearts for wasting her "precious time" after she asked me to sing for her, and managed to get all the way through War's Mountain
Signature





VerityHattress is the name,
but you can just call me Verity



Busy, Sorry for being so slow!
Interest Tags
Favorite Movies/Anime
Favorite Reads
Hobbies/Interests